Skip to Content
Floor Sweepers
Save thousands in labour and maintenance costs with Factory Cat sweepers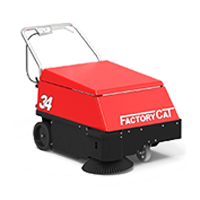 34
Disk Scrub Path:
34"

Cylindrical Path:
26" × 10"

Dimensions (L×W×H):
2 cubic feet

Solution / Recovery Tank:
58" × 31" × 38"

Run Time:
Up to 4 hours

Theoretical Coverage:
Up to 30,000 sqft/hr

Learn More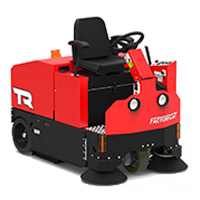 TR
Disk Scrub Path:
46"

Cylindrical Path:
32" × 10"

Dimensions (L×W×H):
4 cubic feet

Solution / Recovery Tank:
64" × 37" × 55"

Run Time:
Up to 7 hours

Theoretical Coverage:
Up to 60,000 sqft/hr

Learn More
Industrial Floor Sweepers in Brampton, ON
It's important to keep a clean and safe environment for your employees and clients. Floor sweepers by Factory Cat provide cleaning powers to help you avoid hazardous falls and keep your business looking great. Clean floors can also boost morale, production, and profits due to the overall clean state of mind and safe work environment. When visitors see your clean, well-maintained space, they feel more welcomed. Take pride in your company's aesthetics and safety with an effective and hard-working floor sweeper by Factory Cat. We'll discuss their primary functions and how we can serve you with our sweepers. There are a few aspects to consider before purchasing. If you have any questions, don't hesitate to give us a call.
Why Factory Cat Sweepers?
Our floor sweepers are easy to use with operator-friendly controls, operation, and steering. You won't have to worry about spending money and time on formal training for your operators. These floor sweepers are designed to maximize your cleaning power with little to no involvement after purchase and setup. They provide consistent, high-quality cleanliness. We build them with high-power engines that can run up to four or seven hours with 30,000 to 60,000 square feet per hour coverage. We provide a walk-behind and a ride-on sweeper to find the right fit for your space. Whatever size you go with, they're more than capable of cleaning up debris on factory and production floors, offices, warehouses, and more. Plus, they soft on your floors, allowing you to get a deep clean without damaging your property. Our Factory Cat floor sweepers also have a vacuum and polypropylene felt "baghouse" filter system that allows our machines to stuck up to 0.2 microns and have no dust blow up.
Contact Us Today
Factory Cat floor sweepers help you maintain clean, safe floors for your business. They're also price-efficient to run and require relatively low maintenance. The payoff you get from having spotless floors without cleaning fatigue from your employees is always worth the initial investment. If you would like to learn more about our floor sweepers, contact our office. We're always happy to discuss our products and help you find the right floor sweeper for your business. We'll take your industry, space, cleanliness, and more into consideration when helping you find the perfect fit.
It is now approximately eighteen months since we purchased our Factory Cat sweeper and it is still operating as good as the day we received it. We feel that our pay back for this machine was achieved in the first twelve months of its operation. From that time on we have had savings from our operating budget that we could not have achieved without the use of your machine. I would not hesitate to recommend this sweeper to anyone, so please feel free to use our company as a very satisfied user of your product.
This is to advise you that our Factory Cat is exactly what you described it to be. This machine has done a great job for Metric Forest Products Ltd. It has cleaned up stone, sand, sawdust and chips of wood. We are pleased with the Factory Cat and wish to thank you for all your help!
Floors So Clean You Can Eat off of Them
A Look Inside Our Sweepers
Why Us?
Great prices with easy financing
Fast and efficient cleaning to cut your costs
US-made steel framed scrubbers
Easily sweep dirt and dust without any traces
New and used machines in stock
Strong "no questions asked" warranty